Franciscan Missionaries of Our Lady Health System to Receive Prestigious Epic Gold Stars Level 10 Designation
August 24, 2023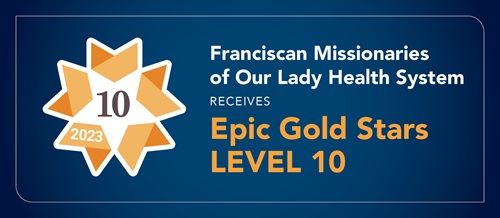 Baton Rouge, LA — Franciscan Missionaries of Our Lady Health System (FMOLHS) has achieved a Gold Stars Level 10 Designation this month for its outstanding work implementing and effectively utilizing its electronic health record system (EHR), Epic. This recognition places FMOLHS in the top 4% of healthcare systems utilizing the Epic system across the country.
"This achievement is the result of many years of diligent and strategic work by our team to improve and maximize the benefits of our EHR system," said Will Landry, FMOLHS SVP Chief Information Officer. "The more our health system optimizes our usage of the Epic platform, the better the overall experience and ease of access will be for our patients and providers."
The Level 10 Designation is the highest level of recognition available for health system users. This is the first year the health system has achieved this level of recognition, placing FMOLHS as one of only 18 health systems to reach this level. The Epic Stars program grades hospitals and health systems on patient access, patient experience, clinical quality, safety, population health, physician and nursing productivity, and value from data.
"Our efforts are rooted in continuous progress forward. By harnessing the full power and functionality of our EHR, we are better equipped to meet the health needs of the communities we are privileged to serve," said Bobby Dupre, M.D, leader of the MyChart Steering Committee.
FMOLHS first began implementation of the Epic EHR platform across the entire health system in 2017. Since that time, FMOLHS has worked closely with community health systems and providers in the Gulf South to implement the Epic system across the region through its Community Connect program, connecting thousands of providers and patients through one seamless, integrated electronic record.
---
About the Franciscan Missionaries of Our Lady Health System
The Franciscan Missionaries of Our Lady Health System is one of the largest healthcare systems based in Louisiana and is the leading healthcare provider for more than half the state's population. The health system is a non-profit, Catholic organization sponsored by the Franciscan Missionaries of Our Lady. Headquartered in Baton Rouge, Louisiana, the ministry serves patients in Louisiana and Mississippi through a network of hospitals, clinics, physicians and integrated health systems. The health system's unified physician organization is comprised of more than 1,100 adult and pediatric primary care physicians and specialists. The system's nine main campus hospitals include St. Francis Medical Center in Monroe, Our Lady of the Lake Regional Medical Center in Baton Rouge and Gonzales, Our Lady of the Lake Children's Hospital in Baton Rouge, Our Lady of Lourdes Regional Medical Center, Heart Hospital, and Women's & Children's Hospital in Lafayette, Our Lady of the Angels in Bogalusa, and St. Dominic Hospital in Jackson, Mississippi. For more information, visit fmolhs.org.