Expert Care, Better Outcomes After Stroke
Our Lady of Lourdes Health is leading the charge in stroke education, prevention and advanced care in the region. Our Stroke Center of Excellence, the first facility of its kind in Acadiana, earned the Gold Seal of Approval from the Joint Commission for Primary Stroke Centers.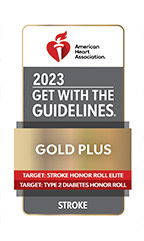 In addition, our center is the only one in the area to receive the American Heart Association Get With The Guidelines® Gold Plus award for proven dedication to ensuring all stroke patients have access to the best practices and life-saving care.
Consistently ranked among the best in the nation for immediate response in stroke care, our multi-faceted Fast Alert program coordinates recovery efforts from all touch points – from ambulances in the field to our dedicated nursing staff, neurologists, neurosurgeons and the only full-time interventional neuroradiologists in Lafayette. Before a stroke patient enters our facility, our acute care team is prepped and ready to deliver advanced treatment at a moment's notice.
RAPID Technology
The latest tool in our mission to efficiently detect and treat strokes allows us to expand the treatment window for stroke patients up to 24 hours. Thanks to the RAPID technology, radiologists have clearer visualization of the stroke to more effectively diagnose a patient's eligibility for clot removal.
RAPID technology gives healthcare providers the data needed to make more informed treatment decisions that have resulted in more accurate care for those with strokes. Minutes matter, and fast delivery of data can enable treatment that may be potentially brain-saving or even life-saving for patients. While currently accepted practices for diagnosis of stroke may take hours to complete, RAPID technology provides automated analysis in minutes.
RAPID technology is designed to provide physicians with fast and easy-to-interpret information that facilitates clinical decision-making around stroke. With 76% of stroke patients discharged to home or short-stay rehab, Our Lady of Lourdes Health continues to be the gold standard for those recovering from a stroke.