Dr. Brittany Wyger Joins Our Lady of the Lake Assumption Community Hospital Primary Care Clinic
January 11, 2022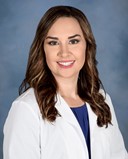 NAPOLEONVILLE, LA – Our Lady of the Lake Physician Group welcomes Brittany Wyger, MD, FAAFP, to Our Lady of the Lake Assumption Community Hospital Primary Care Clinic in Napoleonville. As a board certified Family Medicine physician, Dr. Wyger specializes in providing medical care to newborns and pediatric patients, as well as the entire family.
Her office is located at Assumption Primary Care at 143 Highway 402.
To schedule an appointment with Dr. Wyger, visit our website or call her office directly at (985) 369-1083.
Dr. Wyger earned her medical degree from Saba University School of Medicine followed by her Family Medicine residency at LSU in Alexandria, Louisiana. She has been practicing Family Medicine in Louisiana for the past nine years.
Dr. Wyger is passionate about medical weight management. She serves as a member of the Obesity Medicine Association and was recently board certified in Obesity Medicine by the American Board of Obesity Medicine. Dr. Wyger acts as her patients' ally throughout their weight loss journey and works closely with them to achieve their goals. She is excited about the opportunity to serve patients in Assumption Parish and surrounding communities.
---
About Our Lady of the Lake Health
Our Lady of the Lake Health is a not-for-profit Catholic healthcare ministry based in Baton Rouge, Louisiana, with more than 7,500 employees committed to serving the Capital Region and building a healthy community through excellence in patient care and education. With an 800-bed Regional Medical Center, a dedicated Children's Hospital, a 78-bed hospital in Gonzales, Louisiana, two freestanding emergency rooms in outlying parishes, and a 600+ provider Physician Group, Our Lady of the Lake Health provides comprehensive healthcare services for common to complex conditions. Our Lady of the Lake Regional Medical Center is a primary teaching site for graduate medical education programs in partnership with LSU, and is recognized in the areas of heart and vascular, trauma and emergency care, stroke, cancer care, minimally invasive procedures, and more. Our Lady of the Lake is part of the Franciscan Missionaries of Our Lady Health System and is driven by its mission to serve all God's people, especially those most in need. For more information, visit ololrmc.com.