Provider Spotlight - Nicholas LeBlanc, MD
March 21, 2022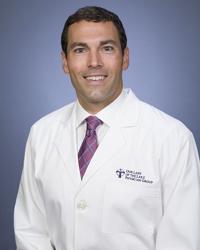 Provider Spotlight
Nicholas LeBlanc, MD
Thoracic Surgery | Our Lady of the Lake Physician Group
He's known as Dr. Esophagus, but now you can call him Dr. POEM, too. And no, this has nothing to do with poetry.
Dr. Nicholas LeBlanc recently performed the first successful peroral endoscopic myotomy—otherwise known as the POEM procedure—in the Baton Rouge region. This rarely performed endoscopic procedure is used as a less-invasive alternative to surgery for treating swallowing disorders.
Back in late 2021, a patient came to Dr. LeBlanc with achalasia, a disorder in which the sphincter muscles in the lower esophagus are too tight and can't relax, making it difficult to swallow or allow food to pass through the esophagus.
Using an endoscope, Dr. LeBlanc was able to cut some of the muscle fibers and open the esophageal pathway. After an overnight stay, the patient returned home on a modified diet until he was able to begin eating solid foods again. Of course, Dr. LeBlanc soon found out the patient was doing so well he had started eating fried chicken again!
Since this first POEM procedure, Dr. LeBlanc has performed it for two additional patients with great success. Being that it's a fairly new procedure in U.S. health systems, it's a testament to the talents of the Our Lady of the Lake Physician Group that patients can get this caliber of innovative care.
"Without this procedure being offered here, patients might have to go at least 100 miles away to get it," Dr. LeBlanc says. "The biggest thing is that now we're able to offer this option and it's a very safe procedure for someone who might not be a good candidate for surgical repair or who just may not want surgery."
To learn more about Dr. LeBlanc, visit his physician profile here.
---
About Our Lady of the Lake Physician Group
With 600-plus healthcare providers across more than 100 locations, Our Lady of the Lake Physician Group is the area's largest physician network. In addition to primary care, this experienced group of doctors specializes in the diagnosis and treatment of a broad range of illnesses and complex medical problems. Video visits, same-day appointments and online scheduling make receiving the care you need more convenient. Visit ololphysiciangroup.com to learn more.