Surgeons Group of Baton Rouge Welcomes Dr. Mohammad Al Efishat
March 22, 2022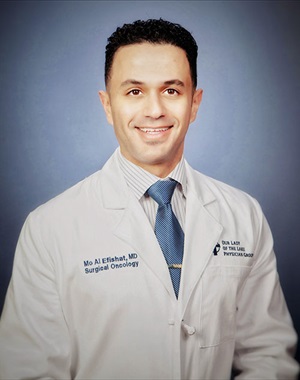 Mohammad Al Efishat, MD
Surgical Oncologist, Pancreatic and Hepatobiliary Surgeon
Surgeons Group of Baton Rouge, Our Lady of the Lake Regional Medical Center
On paper, his credentials are impressive: Born and raised in Amman, Jordan, Dr. Mo Al Efishat, MD, received his medical degree from the University of Jordan. Following that, he moved to the United States where he did his Internship, Residency, Complex Surgical Oncology and Hepatopancreatobiliary Fellowships at the prestigious Johns Hopkins University School of Medicine. He became Board Certified in General Surgery by the American Board of Surgery in 2020, and then earned his American Board of Surgery certification in Complex Surgical Oncology in 2022.
But to his patients, he's just Dr. Mo.
As part of the Surgeons Group of Baton Rouge at Our Lady of the Lake Regional Medical Center, Dr. Al Efishat is a Surgical Oncologist and Pancreatic and Hepatobiliary Surgeon, treating conditions of the pancreas, liver, gallbladder and bile duct as well as abdominal tumors. He is also a clinical assistant professor at LSU School of Medicine. Dr. Al Efishat says the primary focus of his clinical work is to provide the highest quality multidisciplinary care for his cancer patients, with a special focus on keeping the patient at the center of every medical decision.
"I love the relationship we develop with the patients," he says. "It's usually a lifetime relationship; as we see them multiple times before and after their surgery and continue to see them regularly for their cancer surveillance. I also admire how brave they are—it is that courage in them that inspires us to keep pushing the envelope in our fight against cancer."
A Personal Reflection
Watching his maternal grandmother succumb to liver cancer years ago was a motivator for Dr. Al Efishat to pursue medical school and surgical training. When his father was diagnosed with bile duct cancer, Dr. Al Efishat found his calling for Hepatopancreatobiliary and the Surgical Oncology specialty. In fact, his father was treated at Johns Hopkins when Dr. Al Efishat was interviewing for his surgical oncology Fellowship training.
"I had to pause and self-reflect and think about what God was trying to tell me," Dr. Al Efishat says. "It swiftly became crystal clear that it was a calling for me to become a cancer surgeon." Meanwhile, his father is doing great and thankfully he is
cancer-free.
Johns Hopkins is known in the medical field as the "Mecca of the Pancreas," with one of the highest numbers of pancreatic surgery per year, including those for borderline and locally advanced pancreatic cancer. Dr. Al Efishat had the opportunity to train under the giants of pancreatic surgery, including the father of modern pancreatic surgery, Dr. John Cameron. During his eight years at Johns Hopkins, Dr. Al Efishat participated in hundreds of open and robotic pancreatic and liver surgeries, including the Whipple procedure, otherwise known as a pancreaticoduodenectomy, in which portions of the pancreas, small intestines, bile duct and stomach are divided and removed to get rid of a tumor.
Handle with Care
At Our Lady of the Lake, Dr. Al Efishat will be conducting minimally invasive robotic surgery to treat various conditions and cancers, including pancreatic and liver cancer. He says he prefers the robot for complex cancer operations given the superior dexterity it provides over conventional laparoscopy.
"With robotic surgery, you are able to see the anatomy much clearer, it helps you be more precise, and it can make a major operation much more tolerable for the patient," Dr. Al Efishat says. "It leads to less pain, shorter hospital stays and a quicker recovery, so patients can go back to their families sooner, and do what they enjoy most." When caring for a cancer patient, Dr. Al Efishat focuses on curing their cancer, relieving their symptoms and improving their quality of life, while always actively listening to the patient, as listening is healing.
"I've always loved that immediate tangible effect surgery has on the life of our patients," he says. "They might come in really sick, but then after surgery they are doing tremendously better. I love the fact that you can instantly improve the quality of life for our patients, and in many cases, cure their cancer and save their lives."
The Louisiana Lifestyle
Since joining the Our Lady of the Lake family, Dr. Al Efishat has been immediately drawn to the positive attitudes, infectious smiles and genuine passion of the staff and his surgeon partners. He's also been drawn to the delicious Cajun food, the vibrant vibes and welcoming nature of the Baton Rouge community. "People go out of their way to say hello and good morning," he says. "The kindness and generosity of everyone has been heartwarming, and it gives me extra energy to always give more for my patients."
Dr. Al Efishat likes to spend his off time either at the gym or outdoors. His perfect weekend would be going on a long hike all day and concluding with dinner with family and friends at a good restaurant.
He also started learning to play golf. "But I'm still an amateur at best!" he says.
---
About Our Lady of the Lake Health
Our Lady of the Lake Health is a not-for-profit Catholic healthcare ministry based in Baton Rouge, Louisiana, with more than 7,500 employees committed to serving the Capital Region and building a healthy community through excellence in patient care and education. With an 800-bed Regional Medical Center, a dedicated Children's Hospital, a 78-bed hospital in Gonzales, Louisiana, two freestanding emergency rooms in outlying parishes, and a 600+ provider Physician Group, Our Lady of the Lake Health provides comprehensive healthcare services for common to complex conditions. Our Lady of the Lake Regional Medical Center is a primary teaching site for graduate medical education programs in partnership with LSU, and is recognized in the areas of heart and vascular, trauma and emergency care, stroke, cancer care, minimally invasive procedures, and more. Our Lady of the Lake is part of the Franciscan Missionaries of Our Lady Health System and is driven by its mission to serve all God's people, especially those most in need. For more information, visit ololrmc.com.