Our Lady of the Lake Children's Hospital Announces Brian Cordasco as Vice President of Hospital and Clinic Operations
October 12, 2022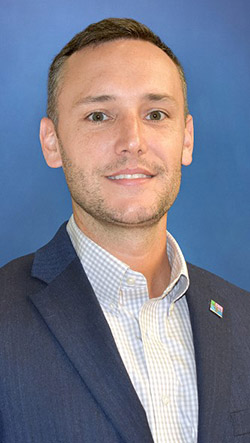 BATON ROUGE, LA - Our Lady of the Lake Children's Hospital is pleased to announce Brian Cordasco as its new Vice President of Hospital and Clinic Operations. Cordasco previously served as senior director for Our Lady of the Lake Children's Health, where he focused largely on general and specialty pediatric operations. In his new role, Cordasco will continue to support Our Lady of the Lake Children's Health physician practices and will now oversee the hospital operations for the Children's Hospital.
"Brian brings a wealth of expertise in pediatric health care to this role from his experiences both inside and outside our organization," said Stephanie Manson, Our Lady of the Lake Health Chief Operating Officer. "I'm confident his knowledge and passion for his work will help Our Lady of the Lake Children's Hospital continue to grow and thrive."
Cordasco is Board Certified in healthcare management as a Fellow of the American College of Health Care Executives. He first joined Our Lady of the Lake as an administrative fellow in 2008 before eventually serving as director of operations and director of finance for Our Lady of the Lake Physician Group. Cordasco's career took him to Memorial Health University Medical Center in Savannah, Georgia, then Texas Children's Hospital in Houston. Cordasco spent six years with Texas Children's, leading strategic expansions of the neurosciences, genetics, mental and behavioral health programs. He played an instrumental role in improving US News & World Report rankings, with Pediatric Neurosciences rising to ranking second nationally. He returned to Baton Rouge with the goal of offering premier pediatric care to the children of Louisiana without having to leave the state.
"It is a privilege to be afforded this opportunity to further develop our pediatric ministry throughout the region," Cordasco said. "I am looking forward to collaborating with the many talented physicians, leaders and team members who have built the incredible foundation we are blessed to have. Our future success will be measured by our ever-increasing ability to adequately care for the most complex cases. Children and their families should not have to leave our state to receive the expert care they deserve."
---
About Our Lady of the Lake Health
Our Lady of the Lake Health is a not-for-profit Catholic healthcare ministry based in Baton Rouge, Louisiana, with more than 7,500 employees committed to serving the Capital Region and building a healthy community through excellence in patient care and education. With an 800-bed Regional Medical Center, a dedicated Children's Hospital, a 78-bed hospital in Gonzales, Louisiana, two freestanding emergency rooms in outlying parishes, and a 600+ provider Physician Group, Our Lady of the Lake Health provides comprehensive healthcare services for common to complex conditions. Our Lady of the Lake Regional Medical Center is a primary teaching site for graduate medical education programs in partnership with LSU, and is recognized in the areas of heart and vascular, trauma and emergency care, stroke, cancer care, minimally invasive procedures, and more. Our Lady of the Lake is part of the Franciscan Missionaries of Our Lady Health System and is driven by its mission to serve all God's people, especially those most in need. For more information, visit ololrmc.com.
---
About Our Lady of the Lake Children's Health
Our Lady of the Lake Children's Health is a collaborative, coordinated, and child-focused health network that provides patients with more access to physicians and providers specifically trained to care for children. The network includes hospital-based services at the main campus of Our Lady of the Lake Children's Hospital in Baton Rouge, as well as St. Francis Pediatrics in Monroe, Our Lady of Lourdes Women's and Children's Hospital in Lafayette and Our Lady of the Lake Children's Health Bogalusa. It also connects pediatricians, pediatric specialists and other health providers across our state with clinics in the Baton Rouge region, Hammond, Lake Charles, Lafayette and Monroe. This model of coordinated pediatric healthcare extends vital resources into more communities across Louisiana so families have greater access to expertise close to home. For more information, visit ololchildrens.org.