Our Lady of the Lake Health Announces Christopher Tom Trevino, MD, as VP, Physician Executive – Baton Rouge Market Emergency Services
May 16, 2023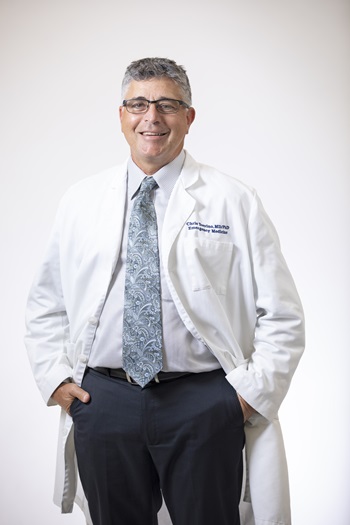 BATON ROUGE — Our Lady of the Lake Health has announced Christopher Tom Trevino, MD, as its new VP, Physician Executive - Baton Rouge Market Emergency Services. Our Lady of the Lake Health treats approximately 200,000 people across its six emergency rooms each year, and Dr. Trevino will help to improve outcomes at all sites of care.
"Dr. Trevino is a well-respected leader both at Our Lady of the Lake Ascension and within the community of Ascension Parish," said Chuck Spicer, president of Our Lady of the Lake Health. "His experience in emergency medicine and in his current role make him a great fit for this position to serve our entire market and most importantly the people entrusted to our care."
Dr. Trevino is Board Certified in emergency medicine. He received his medical degree from LSU School of Medicine in Shreveport and has been in practice for more than 25 years. Since 1999, he has served in numerous medical director roles at Our Lady of the Lake Ascension, which was known as St. Elizabeth Hospital the time. Dr. Trevino will continue in his administrative role at Our Lady of the Lake Ascension as its chief medical officer.
"This role takes a specific person with leadership, experience and a deep-rooted compassion for the community we serve," said Dr. Catherine O'Neal, chief medical officer of Our Lady of the Lake Health. "Dr. Trevino has served in leadership roles with Our Lady of the Lake Health for many years. I am excited to see the impact he can bring to our emergency services in this new role."
Dr. Trevino wears many hats in the Ascension Parish community. He is the medical director of all EMS and fire services in Ascension Parish and is a sheriff's deputy in the Ascension Parish Sheriff Department where he serves as the medical director and emergency medical support for the Crisis Response Team. Dr. Trevino is also a lieutenant colonel in the Louisiana National Guard.
---
About Our Lady of the Lake Health
Our Lady of the Lake Health is a not-for-profit Catholic healthcare ministry based in Baton Rouge, Louisiana, with more than 7,500 employees committed to serving the Capital Region and building a healthy community through excellence in patient care and education. With an 800-bed Regional Medical Center, a dedicated Children's Hospital, a 78-bed hospital in Gonzales, Louisiana, two freestanding emergency rooms in outlying parishes, and a 600+ provider Physician Group, Our Lady of the Lake Health provides comprehensive healthcare services for common to complex conditions. Our Lady of the Lake Regional Medical Center is a primary teaching site for graduate medical education programs in partnership with LSU, and is recognized in the areas of heart and vascular, trauma and emergency care, stroke, cancer care, minimally invasive procedures, and more. Our Lady of the Lake is part of the Franciscan Missionaries of Our Lady Health System and is driven by its mission to serve all God's people, especially those most in need. For more information, visit ololrmc.com.