Moncus Park Celebrates Completion of Interactive Water Adventure Gifted by Our Lady of Lourdes
June 13, 2022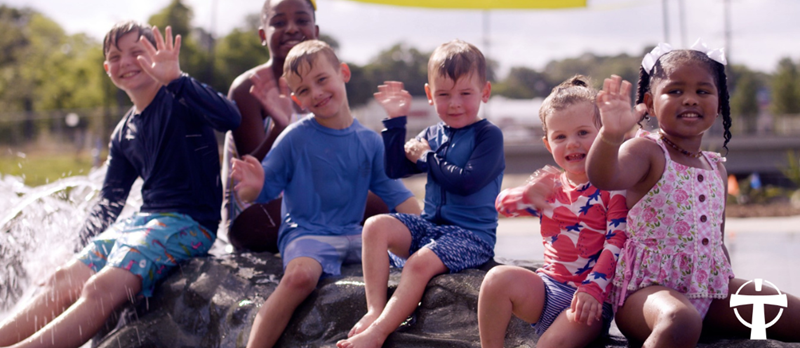 The Our Lady of Lourdes Interactive Water Adventure is now open at Moncus Park. Join us for a splashing good time.
On Thursday June 9th, Moncus Park and Our Lady of Lourdes celebrated the completion of an interactive water adventure gifted by Our Lady of Lourdes. The ceremony included a short ribbon cutting and an opportunity for members of the community to be the first to see the new amenities activated.
The Our Lady of Lourdes' 5,100 square foot interactive water adventure is conceived as a classic, Louisiana bayou scene, romantic, and beautiful. The design concept focuses its energy on a 25-foot alligator sculpture staring back at a pirogue, which occupies a sizable part of the fountain. The alligator's belly expands and contracts, "breathing" arching jets of water. Forty-two custom jets create rhythmic wave patters over the feature's green bayou.
The interactive water adventure has been designed by Fluidity Design Consultants, a global leader in water feature design out of Los Angeles that was founded by Jim Garland, a UL Lafayette architecture graduate.
"The Moncus Park interactive water adventure will play a significant role in providing safe activities and opportunities for Lafayette residents to play outdoors. We are proud of the positive impact this gift will have locally, regionally, and beyond," said Kathy Healy-Collier, President of Our Lady of Lourdes.
Since breaking ground in 2018, Moncus Park has completed a new 4-acre lake, a great lawn, over two miles of new trails, a dog park, hundreds of tree plantings, Amphitheater, as well as much of the infrastructure and utilities for future developments. All elements within the Park are part of a community-inspired, Park Council-approved master plan, the majority of which has been funded by private donations.
"Without partners like Our Lady of Lourdes, Moncus Park would never be able to realize our vision of this Park for the Acadiana region," said JP MacFadyen, Executive Director of Moncus Park. "We look forward to seeing our community enjoy and celebrate this exceptional addition at Moncus Park."
To get involved or become a member of Moncus Park visit
www.moncuspark.org

---
About Our Lady of Lourdes Health
Founded by the Franciscan Missionaries of Our Lady in 1949, Our Lady of Lourdes Health is a not–for–profit Catholic healthcare ministry based in Lafayette, Louisiana. With a regional acute care medical center that employs more than 2,800 people, Our Lady of Lourdes Health offers a physician staff of over 850 doctors in a variety of medical and surgical specialties. Lourdes' services include Centers of Excellence in the areas of Orthopedics, Stroke and a Robotic Surgery Program. Lourdes is home to the only burn unit in Southwest Louisiana and a Commission on Cancer-accredited oncology program. Our Lady of Lourdes operates Our Lady of Lourdes Heart Hospital, a premier 32-bed cardiac facility, and Our Lady of Lourdes Women's & Children's Hospital, offering the area's only Pediatric Intensive Care Unit and Level III Surgical Neonatal Intensive Care Unit. With additional services including multiple clinics, four imaging locations and a primary care physician network, Lourdes provides easy access to comprehensive care throughout the community. Our Lady of Lourdes is part of the Franciscan Missionaries of Our Lady Health System and is driven by its mission to serve all God's people, especially those most in need. Discover more at LourdesRMC.com.