Communities We Serve
St. Dominic's Health Services Foundation supports charitable healthcare services in and around Jackson that extend our mission of stewardship and outreach to those most in need. Each day, hundreds of lives are touched by experiences in our community programs, which are listed below.
The Community Clinic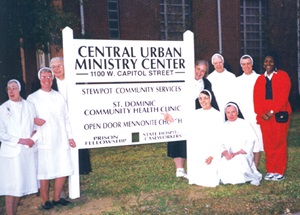 In 1996, Sister Mary Trinita Eddington established the Community Health Clinic to bring accessible medical care and educational programs to the homeless, uninsured and working poor of the Jackson metro area. The clinic is located in the downtown area of Jackson adjacent to another worthy charity, Stewpot.
Funds are needed to support the work of the clinic whether for referral cost, medications, food, clothing, etc. The clinic is a big part of St. Dominic's community health outreach. Please consider making a gift to a growing endowment designed to secure the future of the clinic or to the regular everyday operation fund. Every penny benefits the needy in our impoverished community – men, women and children.
Care-A-Van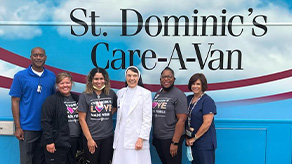 We take wellness and health screenings to the streets and remote locations of the Jackson metro area and beyond. Today, a new, modern and well-equipped Care-A-Van travels the roads of central Mississippi performing much-needed basic health screenings for children and senior adults.
Care-A-Van regularly travels to health fairs, boys and girls clubs, schools, churches, colleges and many other locations. The team is dedicated to protecting as many young people as possible each year, many of whom have never seen a physician or dentist. Many young lives have been saved through these health screenings.
Each year the Care-A-Van averages around 470 screening events, 333 educational programs, has wellness contacts with 39,000 children and adults and provides 2,100 referrals. Whether for maintenance, medications, materials, fuel, equipment or something else the program needs, your gift would be well used for a noble cause. Your gift would touch many children, some of which are in peril unbeknownst to them or their parents.
The Mississippi Heart and Vascular Institute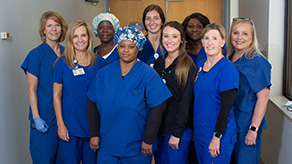 St. Dominic's Hospital's local, regional and even national reputation for exceptional care delivered with great compassion can be traced to many of its services, especially when caring for patients with cardiovascular issues. Established in 1975, the Mississippi Heart and Vascular Institute performs tens of thousands of cardiovascular procedures annually with great success – contributing to its great reputation.
Partnering with cardiac teams such as Jackson Heart Clinic, there is very little cardiovascular treatment you can't get done here in your home community. Even the most technically skilled physicians must be supplied with state-of-the-art facilities and equipment.
The cost of staying on that cutting edge is high. Revitalizing a cath lab can cost up to $2 million. Your support can touch the hands of some of the best physicians in Mississippi and literally saves lives every day.
The Cancer Center Patient Care Fund or Expansion Fund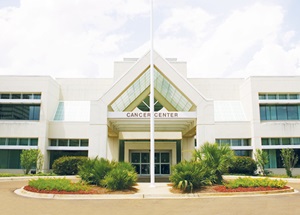 St. Dominic's Cancer Center treats tens of thousands of patients each year from almost 30 counties within our state. We offer virtually all treatments and detection procedures right here, close to home. From the time you enter the Gertrude Ford Atrium until you leave, you feel a comfort with the wonderful facilities and incredible team members. High-quality care and sincere compassion are the bywords of every person inside those walls. From its twice-a-year cancer survivor camp, Camp Bluebird, to the very basics of premier care, you can rest assured those who come to us for cancer concerns are attended to as if they were the only person we were treating. Many patients we see lack the funds or insurances to pay for medications, treatments or even travel to receive treatments. Our patient care fund exists to fill the void.
The Dominican Fund
St. Catherine's Village is considered the gold standard in retirement care, from the beautiful facilities to the incredibly compassionate attention and care residents receive.
When St. Catherine's Village accepts residents under its Life Care program, neither the resident nor the family has to worry about the future. Should a resident outlive their resources or some traumatic financial event happen, SCV picks up any financial short fall. Talk about peace of mind.
To help offset the annual cost of this promise, the Dominican Fund was established. It is an endowed fund that many current and past residents have contributed to, as have many friends of SCV. The fund has almost $3 million and has a goal to reach at least $5 million. At that level, the income would provide for almost all the annual shortfall, opening up cash flow to use in support of other needs. We want SCV to continue to be the gold standard.
Grateful Patient Program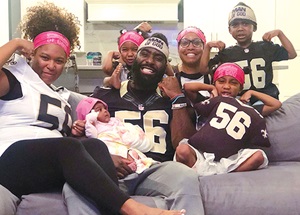 Many patients express their gratitude for the wonderful care they receive here from St. Dominic's Hospital through their kind words, smiles and letters of thanks. Hearing the words "thank you" from a patient is more meaningful to a caregiver than any type of award or accolade they can receive. However, many times just saying "thank you" is not sufficient for the patient or family. They feel compelled to express their appreciation in a more tangible way.
St. Dominic's Grateful Patient Program provides patients with another way to say "thank you" to caregivers who have made a difference in their lives. By honoring caregivers, physicians and other team members who put in the extra effort and love to care for you or a loved one, you can say a lasting thank you in a way that impacts our ability to care for patients 24 hours a day, 365 days a year.
Gifts received through the Grateful Patient Program pay tribute to a caregiver who has enriched your life while also helping to provide essential resources for a healthier tomorrow – for you, your family and our community. When a gift is made, those being honored receive an acknowledgement letter notifying them of your gift. Your message of appreciation will also be shared with your honoree, their supervisor, their colleagues, and the community through donor and employee recognition in our publications and newsletters.
The gift amount will be kept confidential, and all gifts are fully tax deductible. If you have any questions, please don't hesitate to contact us at (601) 200-6910.
Team Member Giving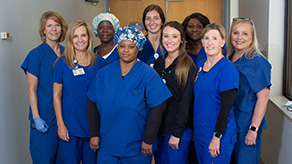 Each year, thousands of St. Dominic's and St. Catherine's Village team members give to The Team Member Caring Fund. St. Dominic's employees have a well-deserved reputation in our community for being generous with their talents, time and treasure. Our team members have contributed about $200,000 each year for many years. Gifts are tax deductible and can be pledged through payroll deductions each pay period.
"Mission 26" employees are those who choose to withdrawal a minimum of $5 from each of the 26 annual pay periods. A pledge can be withdrawn at any time. You can also make a one-time payroll withdrawal or credit card gift. Please seriously consider joining your fellow team members in reaching out to make our community a safer and healthier place.