Communities We Serve
Our Lady of Lourdes Foundation supports charitable healthcare services in Acadiana that extend our mission of stewardship and outreach to those most in need. Each day hundreds of lives are touched by experience in our community programs, which are listed below.
St. Bernadette Community Clinic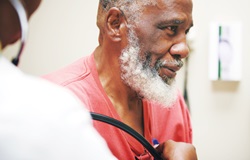 Established in 1995 in collaboration with the Diocese of Lafayette, St. Bernadette Community Clinic provides free non-emergency medical care to the poor and homeless. Services coordinated through this clinic include acute and follow-up care, dental care, eye care referrals and more. St. Bernadette Clinic provides healthcare services to approximately 3,750 people annually (3,200 medical and 550 dental visits).
To continue to provide these outreach services, Our Lady of Lourdes Foundation must raise $1.5 million each year. All gifts help us reach this annual goal. View the special wish list for St. Bernadette Community Clinic on Amazon here.
Congregational Health Services
This collaboration is a unique outreach partnership with churches in Acadiana. Congregational Health Services strives to be effective in its efforts to fortify the community through unity and teamwork to meet a common healthcare goal: to impact and strengthen congregations and the communities they serve. This is done by assisting churches to identify unmet healthcare needs to decrease and prevent the effects of disease through education, prevention, early detection and referrals.
Northside High School Health Center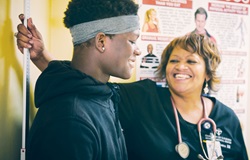 his school-based health center is a collaboration between Our Lady of Lourdes Health and the Lafayette Parish School Board. This center provides free healthcare services to students and staff. The goal in founding the center was to establish a resource for students whom the school board deemed most in need of healthcare. View the special wish list for Northside High School Health Clinic set on Amazon here.